"
...................
Site Index

Synopsis
Introduction
Index of People
Index by Profession

Extracts From The Book:

Princess Marthe Bibesco
Ana Blandiana
Smaranda Braescu
Madelene "Madi" Cancicov
Nina Cassian
Elena Ceausescu
Ioana Celibidache
Queen Elisabeth of Romania
Princess Gregoire Ghica
Princess Ileana of Romania
Dora D'Istria
Monica Lovinescu
Ileana Malancioiu
Queen Marie of Romania
Dr. Agnes Kelly Murgoci
Mabel Nandris
Countess Anna de Noailles
Ana Novac
Oana Orlea
Ana Pauker
Marta Petreu
Elisabeta Rizea of Nucsoara
Sanda Stolojan
Leontina Vaduva
Anca Visdei
Sabina Wurmbrand


"Blouse Roumaine" - Extracts from the Book
..................................................................................................
selected and introduced by Constantin Roman.


Smaranda Braescu (alias Maria Popescu)
"Queen of the Heights", Golden Cross "Virtutea Aeronautica"
..................................................................................................
(b. 21 May 1987 Hancesti-Buciumeni, Moldavia – d. Cluj, 2 February 1948)
Pioneer Aviator, First Romanian woman Parachutist (1928), 1931 European Parachute Champion (6,000m), 1932 World Parachute Champion (7,200m), World War Fighter Pilot, Underground anti-Communist Freedom Fighter, buried under an assumed name


" My life means nothing if I'm keeping it for myself. I dedicate my life to my country, and I want to live it in glory. I will only come back as a winner."

(addressing American Journalists in 1931 in New York, before she beat the World record
at parachute jumping, at 7,000 m)

" I brought a record to my country, and I can't transform the glory into a business. I represent Romania and I must act accordingly."

(declining a lucrative contract for show jumping in America, after she beat the World record
for parashute jumping, in 1932)


--------------------------

Biography: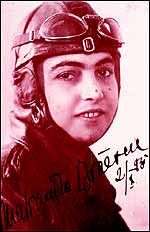 Smaranda Braescu was bron in a small Moldavian village the daughter of poor peasant farmers. In spite of the family's limited resources the child is sent to school and later to college in the nearby city of Barlad. Here, in 1912, at the age of 15 Smaranda witnesses the first landing of an airplane, an event which was going to change her life. Six years later, at the Aviation training School of Tecuci, Smaranda flies for the first time. Next comes her being acquainted with the parachute jumping in Bucharest, whilst a student at the Fine Arts School in 1928. That same year she jumps from 600m altitude, which makes her the first Romanian female parachutist and only the fourth one in the whole world. This debut promts her in beating first the European record, which was held by germany, at 4,000, a feat which she achieves in 1931 by jumping from 6,000 m altitude, for which she receives the Romanian Golden Cross of "Virtutea Aeronautica". The following year, in the United States, in sacramento, Braescu establishes an absolute world record, previously held by an American at 21, 733 ft, by jumping successfully from 24,000ft (7,200m). From then on she becomes a heroine, being escorted by 30 other planes to an air show in Canada where she is invited. In America, she3 declines commercial stunt shows which would have made her a rich woman (see quote) anly to return to Romania. En route she is feted in Italy by the Minister of Aviation in Genoa and is invited to meet the Pope.
In 1932, receiving her pilot licence she establishes another record by crossing the Mediterranean in a Milles Hawk plane which she bought. The trip of 1,100 Km took 6hrs and 10 minutes. A Romanian senator proposes Braescu for honours which she never gets, in a country where wome were more appreciated for their decorative qualities then for their achievements. With the advent of the second world war Smaragda Braesci enrols with other women pilots in the "White squadron", active on the eastern front where Romania was trying to retrieve from the Soviets the provinces taken by Russia as a result of the Hitler-Stalin Pact. After 1944 Braescu joins the 13th squadron which fights the Germans on the Western front, first in Transylvania, thenm in Hungary (Nyiregyhaza ,Miskolc) and Czechoslovakia (Rimaska Sabota, Trencin and Piestany). Although a war hero Smaranda Braescu soon fall foul of the Communist puppet regime, installed in Romania by Stalin's armies. She protests to the United Nations about the legality of the 1946 elections and her letter of protest to the Allied Command in Romania falls in the hands of a Russian general. From now on Smaranda Braescu becomes a pariah and has to join the underground resistance in order to escape emprisonment and sure death. She operates under an assumed name first from a convent and then from the maquis. She dies of cancer at the age of 51, being buried at Cluj, under her alias name of Maria Popescu, a grave on which her merits and real identity cannot be spelled out. The people who helped her are hounded out and given long prison sentences.

Thank you Romania!