"
...................
Site Index

Synopsis
Introduction
Index of People
Index by Profession

Extracts From The Book:

Princess Marthe Bibesco
Ana Blandiana
Smaranda Braescu
Madelene "Madi" Cancicov
Nina Cassian
Elena Ceausescu
Ioana Celibidache
Queen Elisabeth of Romania
Princess Gregoire Ghica
Princess Ileana of Romania
Dora D'Istria
Monica Lovinescu
Ileana Malancioiu
Queen Marie of Romania
Dr. Agnes Kelly Murgoci
Mabel Nandris
Countess Anna de Noailles
Ana Novac
Oana Orlea
Ana Pauker
Marta Petreu
Elisabeta Rizea of Nucsoara
Sanda Stolojan
Leontina Vaduva
Anca Visdei
Sabina Wurmbrand


"Blouse Roumaine" - Extracts from the Book
..................................................................................................
selected and introduced by Constantin Roman.


Queen Marie of Romania, Princess of Great Britain (5)
..................................................................................................
(b. 1875, Eastwell Park, Kent, England-d.1938, Sinaia, Romania)
Princess of Great Britain and Ireland, Queen of Romania


78. Clemenceau:
" - Your Majesty wants all of it, to the river Tisza? But this is the lion's share - impossible!"
" – That's why I came to the Tiger to ask for it."
(meeting President Clemenceau during the Paris Peace Conference)

Living Face:
"I had given my country a living face".

464. Stranger:
"Once I was a stranger to this people; now I am one of them, and, because I came from so far, better was I able to see them with their good qualities and with their defects"
("My Country", Hodder & Stoughton, 1916)

Trusted:
"Although a woman, from the first I have been trusted. I have been told many secrets, I have known all that was going on".
"Ordeal: the story of my life" , (New York, 1934, Charles Scribner & Sons).

521. Woman:
"If only I were a man, with a man's rights and the spirit I have in my woman's body'."



--------------------------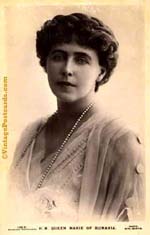 Biography:

Queen Marie of Romania was born At Eastwell Park in Kent, Princess of Great Britain. She was the daughter the Duke of Edinburgh, Queen Victoria's second son and her mother was a Russian Grand Duchess. This made Princess Marie a niece of King Edward VII and first cousin of both the Emperor Nicholas II of Russia and of King George V.

At the time of her betrothal to Prince Ferdinand of Hohenzollern, heir to the Romanian throne, her formidable grandmother Queen Victoria deemed Romania "most unstable and its people quite debauched". Indeed, these premonitions by the grandmother of Europe nearly came to pass as Free Romania was reduced by the German occupation during the First World War to a few square miles, where the Royal Family took refuge, whilst its nearest Allies, the Russians were embroiled in a Bolshevik Revolution. Romania's political dilemma between 1914 and 1916 in entering the war on the side of the Allies, caused her to sit on the fence as a neutral country for two good years. Her French-trained army fought valiantly in the Carpathian passes a superior German Army, but eventually was made to retreat and by the end of the war she was in no good political position to get an honourable bargain at the victors treaty of Versailles. That was no impediment for the Romanian Queen who travelled to Paris, during the Conference and took residence, with her two beautiful daughters in the Hotel Crillon, in Place de la Concorde. President Clemenceau as an Army officer with impeccable manners and a soft spot for the female charms paid his respects to the Queen who received him in splendour. The Queen's beauty was matched by an astute and very intelligent mind, which made a good case for Romania's sacrifices on the side of the Allies and for the commensurate retribution that it deserved. Marie's crucial role on behalf of Romania had met with extreme if opposing assessments in a historical analysis context: she may have been either romaticised and even sometimes belittled. Yet it is clear that confronted with persistent and even justified criticism of Romania's treatment of minorities, Romania's chief negotiator, Prime Minister Bratianu, soon found himself losing ground, as well as his temper, when faced with the patronizing attitudes of the Supreme Council. At Bratianu's call for help, the King approached Marie to undertake an unofficial mission to Paris and London.

The result was the birth of the Greater Romania, which regrouped the historical provinces of Transylvania, Bucovina, Moldavia and Vallachia. Although Romania, like most European nations had little place for women in politics, Marie, had a firm if unofficial role as adviser to her husband, king Ferdinand until his death in 1927. Once her volatile but willful son, Carol II inherited the throne, he isolated Queen Marie, who took little part in the public life from 1927 to her death in 1938. Under Communism Queen Marie's memory was kept alive by people who had known her, but the young generation knew very little if anything of her.


Bibliography:

Marie, Queen of Romania "My Country", Hodder & Stoughton, London, 1916

Marie, Queen of Romania (1934): The Story of my Life"

Martineau, Mrs. P., "Roumania and her Rulers", Stanley Paul, London, 1927

Pakula, H., "The Last Romantic – A Biography of Queen Marie of Roumania", Weidenfeld & Nicolson, London, 1984

Des Cars, Guy, "Les Reines de Coeur de Roumanie", Lafon, Paris, 1991

Taylor, L.W., "The Sourdough and the Queen - The many Lives of Klondyke Joe Boyle", Metheuen, Toronto, 1983 .